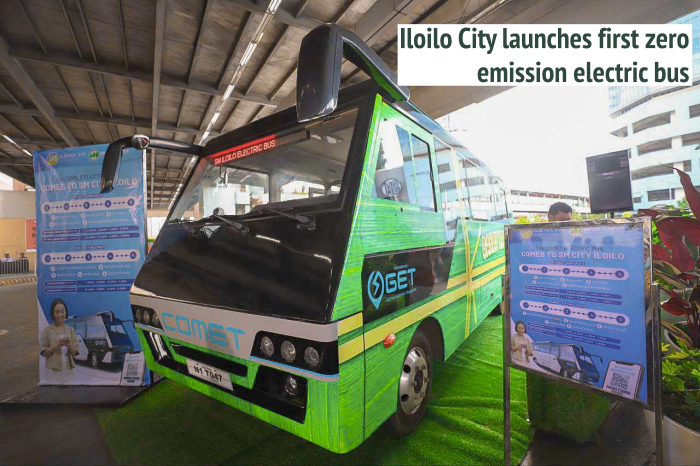 Iloilo City celebrated a groundbreaking moment as it introduced its inaugural zero-emission, fully electric shuttle bus on September 15, 2023. This remarkable initiative, spearheaded by SM City and the More Electric and Power Corporation (MORE Power), aligns with the City Government's eco-friendly objectives.
Mayor Jerry Treñas emphasized the significance of this development, stating, "This will help enhance air quality and mitigate noise pollution within our city. E-buses will not only provide improved comfort and efficiency but also reduce our dependence on fossil fuels."
He further remarked, "This marks a crucial milestone for our city and underscores our unwavering commitment to a cleaner and more sustainable future."
The primary aim of this initiative is to combat pollution and alleviate traffic congestion, enhance the quality of life for both employees and passengers, establish a shared technological infrastructure to simplify daily life, and create a financially viable and sustainable business model centered around clean transportation and life solutions.
Niel Parcon, Vice President for Corporate Planning and Regulatory Affairs of MORE Power, expressed enthusiasm about the partnership with SM and the launch of the SM Iloilo Electric Bus. He described it as a game-changing addition to the city's transportation landscape and an exciting opportunity to drive innovation and accelerate the adoption of sustainable transportation solutions.
The electric bus, with a seating capacity of 30 passengers, offers a complimentary service from September 15 to 23, running from Monday to Saturday, commencing at City Hall and terminating at Ceres Terminal. It includes stops at SM Delgado, Strata, and Savemore Jaro. Commuters looking to take advantage of this complimentary service can simply head to the designated pick-up points.
Starting from September 25 to 30, individuals can continue to avail of the free rides by following these steps: download the GETPASS app, create an account, join the "SM Iloilo Electric Bus" organization, acquire membership tokens, and generate a QR Code for scanning when boarding and disembarking from the bus.
Engr. Gilbert Domingo of SM City Iloilo affirmed the positive impact of the SM Electric Bus on transportation in Iloilo City. He noted that it would lead to reduced pollution and congestion while enhancing the overall quality of life for employees, passengers, and the local community. Furthermore, he highlighted that the electric bus project reflects SM's commitment to sustainability and its dedication to being a valuable partner in improving the lives of Ilonggos and contributing to a cleaner city.