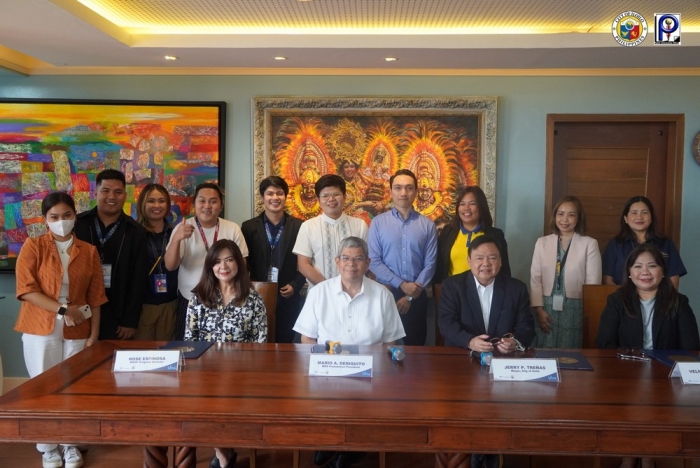 BDO Foundation and the Iloilo City Government have signed a Memorandum of Agreement (MOA) for the Financial Education for Iloilo City Market Vendors program. Under the program, BDOF will grant P1 million in additional business capital to 200 market-vendor trainees of Uswag Negosyo Academy (UNA).
The MOA was signed on August 24 by BDOF President Mario A. Derequito, BDOF Program Director Rose Espinosa, Iloilo City Mayor Jerry P. Treñas, and City Local Economic Development and Investment Promotions Office (LEDIPO) Head Velma Jane Lao.
The financial literacy training is one aspect of the program being made available to market-vendor trainees of UNA. The training will cover topics such as financial planning, budgeting, and investment.
"The construction of new markets is only one facet of our program; what is really important is to improve the business capabilities of all market vendors through our collaboration with BDO Foundation," said Mayor Treñas. "Through UNA, we have produced capable vendors, and that their lives have changed and they can help their families as well."
BDOF President Derequito shared that Iloilo City is their first local government partner in promoting financial education to different sectors of the community.
"We believe we'll be able to reach more sectors on the ground if we work with the local government unit (LGU), which is why we chose Iloilo City as our partner, and with that, we start with the market vendors," he said.
LEDIPO Head Lao mentioned that the P1-million grant, at P5,000 each, is an incentive for the market vendors after they have completed their trainings facilitated by the LEDIPO.
"Aside from the additional capital, we also want that after their trainings, their skills in handling businesses will improve, and they will become knowledgeable on wise spending and proper investment," she said. "We will see to it that they have gained something from this."
BDO Foundation has been partnering with the Iloilo City Government by providing resource persons for the financial literacy training of market vendors. Apart from the vendor beneficiaries, they also aim to branch out their program to include overseas Filipino workers, fishermen, farmers, military personnel, teachers, and students, among others.