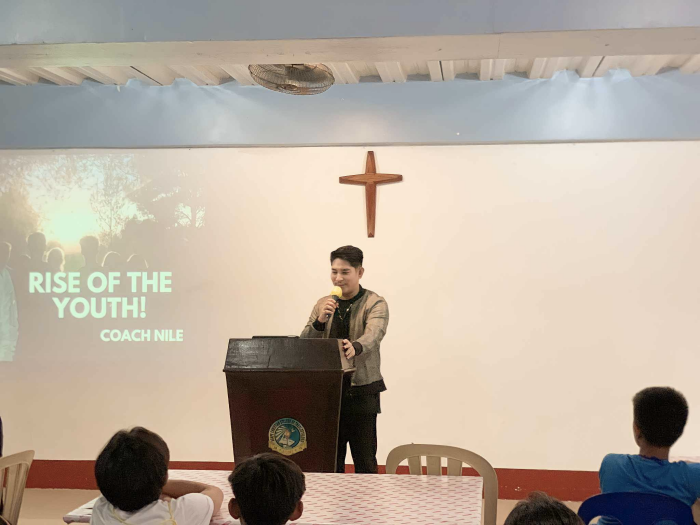 Hope for a Generation: Coach Nile on Rise Of The Youth 2023
Coach Nile is on a mission to spread hope to youth across the nation through his Rise of the Youth Campaign. He believes that by reaching out to communities, he can positively impact lives one story at a time.
The campaign initially focused on addressing the rising issue of suicide among the younger generation, particularly due to limited access to mental health care in remote areas of the Philippines. The COVID-19 pandemic exacerbated the problem, leading to a surge in suicide attempts and deaths among youth.
Coach Nile started the campaign in Cebu City by connecting with a group of young people. He shared his personal life story, which included financial and family struggles, to inspire them. Despite his challenges, he emphasized how his God-given dreams helped him overcome difficulties, with his faith serving as a guiding light during times of depression.
During sessions with Coach Nile, these young people left feeling empowered to thrive, reoriented towards a purposeful life, and motivated to pursue meaningful aspirations. The team prayed for each individual, and Coach Nile even gifted some with his book, "Yesterday Today Tomorrow."
In July, Coach Nile returned to his former school, La Paz I Elementary School, as the commencement speaker. His speech revolved around themes of new beginnings, character development, and the importance of acquiring skills relevant to the future, such as creativity, collaboration, emotional intelligence, and digital literacy.
His talk resonated deeply with the audience, leaving both graduates and parents moved by his life story. "We are proud that Coach Nile was part of our occasion. I have received collective feedback from the teachers that his speech was delivered effectively. Most of all, the context of the speech is very apt for the graduates, " said Mr. Vicente Kee Hong, teacher-in-charge of the program.
Subsequently, Coach Nile received invitations to speak at youth conferences across the Iloilo province and city. His message of hope continued to inspire young people. "I am grateful to youth organizations and churches that opened their doors for me and the message that I carry in this hour. I am looking forward to more speaking engagements in the future. I am one message away," Coach Nile emphasized.
In August, Coach Nile partnered with Gising Na Kabataan Iloilo, YAF Iloilo, YRock Iloilo, and Festive Walk Iloilo to celebrate International Youth Day in Iloilo City. The event focused on remembering God during one's youth, and esteemed brands supported the initiative. As the lead of YAF Iloilo, Coach Nile shared the group's vision of providing a safe space for young adults to find hope and direction without judgment.
Following the celebration, Coach Nile and his team journeyed to Manila for the second leg of the Rise of the Youth Mission Trip. They engaged with people in various locations, offering prayers, encouragement, and inspiration.
Coach Nile had a session in Manila hosted by Bloga Creator Hub of Blogapalooza. They continued the ministry activities in three municipalities of Benguet: La Trinidad, Sablan, Tublay. The team's efforts led to positive transformations in the lives of those they interacted with. Above all, Jesus was lifted high in all the events that happened.
Throughout his journey, Coach Nile's initiatives have been made possible by the unwavering support of his partners. You can also join this journey and support Coach Nile's vision and mission by connecting with him on Facebook.
Related post: International Youth Day 2023: Remember God in the Days of our Youth