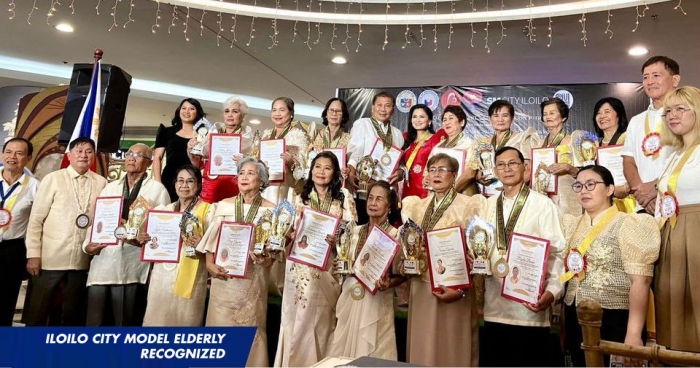 The Iloilo City Government took a moment to celebrate and honor the remarkable contributions of the city's elderly residents. In a bid to inspire and encourage the younger generations, the government recognized outstanding senior citizens who have set a positive example through their dedication to community service.
The prestigious Huluaran sang Katigulangan awards were presented to the following individuals in various categories: Rosemarie Amable and Anita Jaleco for their remarkable contributions to Public Service, Ninfa Grajilvo and Angelina Cordero for their excellence in the field of Profession, Hodgen Lanado for their notable achievements in Agriculture and Technology, Nenita Cabigon for her valuable contributions to Health, Rogelio Banico and Neriza Soqueña for their unwavering commitment to Religious Service, Elizabeth Rosales for her outstanding work in Culture and Arts, Yolanda Sabia for her exceptional dedication to Academe, Lydia Arsulo for her heroic acts, Leticia Tayco for her remarkable achievements in Entrepreneurship, Lydia Villanueva and Sonia Aspabo for their commendable service to the community, and Efren Bartolome Sr. for his notable contributions to Government Service.
These awards were initiated to pay tribute to senior citizens who have displayed exceptional character and have made substantial contributions to their families and communities, particularly through their involvement in public service and leadership.
The event was led by Executive Assistant Lady Julie Grace Baronda and received support from Councilor Urminico Baronda, Jr., Rep. Julienne Baronda, Councilors Johnny Young, and Atty. Frances Grace Parcon-Torres, as well as the Office for Senior Citizens Affairs (OSCA) and the Federation of Senior Citizens Associations of the Philippines (FSCAP).
The awarding ceremony, held at SM City mall on October 9, served as a platform to underscore the crucial roles that senior citizens play in the development of the city. It was part of the city's celebration of Elderly Filipino Week, which is observed every first week of October.